Albright Creative, LLC, understands that design is an important part of a companies success. People are interacting with brands in many ways in today's fast-paced, digital world. A cohesive brand is important in social media, web pages, email campaigns, marketing materials, onboarding — pretty much in all areas of your business. A company's brand is what people remember most often about a company. Your designer needs to understand the entire scope of your business and create graphics, social media posts, and materials that tell your story accurately. Albright Creative specializes in helping businesses do just that.
Albright Creative was founded in 2017 by Erin Albright. The company has accomplished a lot in a short amount of time. Albright Creative has created countless logo designs, websites, email designs, social media graphics, and printed materials, and we love working with amazing clients that we are proud to call friends and partners. Owner Erin Albright has been a speaker at Wordcamp KC where she talked with attendees about all things WordPress. She has also been a panelist at a
Digital Women of Kansas City
event. In 2019, Albright Creative even published a book, 
Sassie's New Home
. Author Erin Albright was named Best Local Author in
The Pitch Magazine's Best of KC 2019
.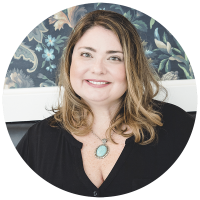 Erin Albright — Owner and Creative Director
Erin Albright is the Owner and Creative Director at Albright Creative. She has experience in digital design, web design, print design, branding, and social media. Albright initially began her design career working in an in-house corporate design department at a local Kansas City company.

After four years, she worked her way up to become supervisor of a design team and remained in that role for 7 years.

Albright's interest in web design and online marketing lead her to start Albright Creative in 2017 in an effort to offer clients a more comprehensive design package.